Custom Design and Printing, Brochures and Sales Sheets...
The Crazy Native Graphics Department was Founded on Custom T-Shirt Designs but Design is Design regardless of what the intended use is for. The Digital Revolution has changed the face of the printing industry and our services have grown to include Digital Printing as well as Design.
We Design and Print Full Color Catalog Sheets, Brochures, Folders, Business Cards, Post Cards, Posters, Photographs and more. With Custom Printed Brochures and Sales Sheets from Crazy Native, You're Marketing Materials are Guaranteed to look their Absolute Best!
We Believe When it comes to Marketing Your Product or Service, You Never Get a Second Chance to Make a Great First Impression.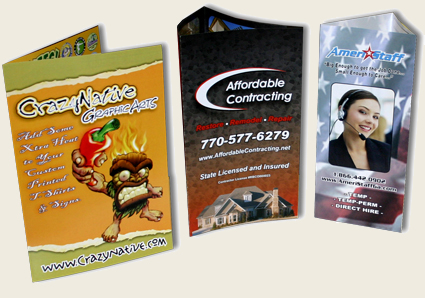 When you hand a potential client your literature it needs to capture their attention and make them want to review it. 1 million words and 100 photographs is not the answer to this dilemma. Only the best images and well thought out and verbalized layout is.
If you would like to get a quote on a Brochure Design or Printing you can e-mail us or call 770-489-2213 for more information.
Printed Brochure Specials:
Full Color Brochures:

*Design and Layout: Pricing Starts at $95.00 for 2 hours design time.

1,000 - 8.5" x 11" (Letter Size Brochures) Full Color Printing with Tri-Fold or Bi Fold - *$300.00

---

Legal Size (8.5" x 14") - Full Color- Bi-Fold or Tri-Fold Brochures on 100# Gloss Text...

| | | |
| --- | --- | --- |
| 1,000 Pieces | 2,500 Pieces | 5,000 Pieces |
| *$525.00 | *$650.00 | $800.00 |
Are Your Old Marketing Materials Just Not Working?

Would you like to Redesign or Update your Existing Identity?

Do you need a corporate Identity?

Then Upgrade to Crazy Native Graphic Arts Today and Start Benefiting from Your Advertising Investment.

We Can Design and Print Your Promotional Materials. We Can Provide Design Services Only or We Can Print Your Professional Artwork.