Suede, Leather & Puff "Texture" Special Effects Inks -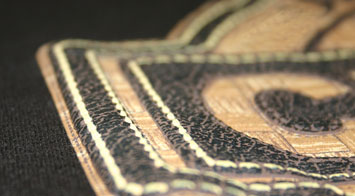 Suede & Leather Base is a base that when mixed with our inks can be used to create a variety of simulated suede leather finishes. The special effect applications are limitless... In the image shown, the suede ink simulates embroidery stitching, while the Leather Ink has cracked and spread giving the impression of real leather.
These inks generally incur a price increase over standard printing due to the additional curing time and stencil preparation, however the final result is apparel that outshines the competition.
The Aged / Distressed Look -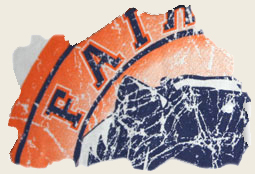 A Cool Looking Custom Printed Distressed Image where the Garments Look Weathered and Worn straight off the press.
This printing technique is achieved more so in the art department than the printing process but it really doesn't matter, the end goal is the same. We Can Combine this 'Art Technique' with Special Effects Ink such as *Puff to Create a Very Unique Finished Product that will "Wow" your peers and clients. This special effect is so popular we've developed several custom distressed patterns *Antique. *Shotgun. *Woodgrain just to name a few.
Foiled T-Shirts and Baby Doll T's -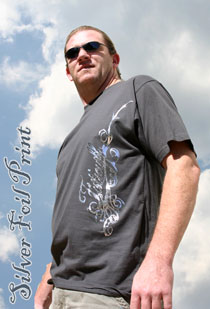 Foiled Prints when Combined with a Good Design are Completely Unisex and are Really, Really Cool Looking!
Foiled Apparel is everywhere these days especially in Ladies Apparel. Spaghetti Strap Shirts and Baby Doll T-Shirts are the Current Rage and we're experiencing a growing demand for Foiled Burn Out Shirts and Vintage Weight 3.5 Ounce T-Shirts as well.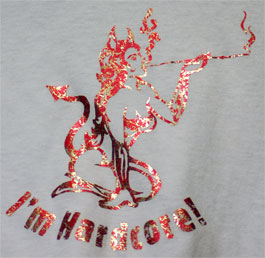 When it Comes to adding Foil to Your Designs We've got the raw talent and unbridled creativity to make Your Image Look its Best Ever. Guaranteed!!!
*Multi Foil Image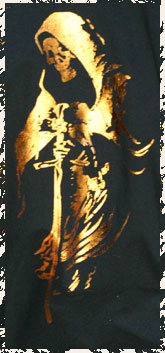 A Word of Wisdom about Foil - Foil Provides a Metallic Look and Feel to a Garment that Traditional Metallic Screen Printing Inks Just Can't Deliver. However Foiled Apparel is not as durable as screen printing and extra care is required for washing and drying.
Basically - the better you care for your garment, the longer it will last.
Our Standard Foil colors are Red, Purple, Magenta, Copper, Silver and Gold. This process generally has a standard minimum order or 12 pieces.
Rhinestones, Caviar Beads & Flock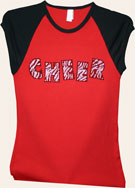 Designs-
While technically these are not all Screen Processes, they are Very Cool Decorating Techniques. Rhinestones and Most Flock Processes are Applied via a Heat Transfer Method with the exception being Flock, Flock can be applied via an Electrostatic Wand to achieve Fine Detail when necessary. *Electrostatic Flock has Very High Minimums Run of 1200 Pieces or more to be cost effective, however if money is not an object, please inquire with us.
Most of the Flock Designs We Produce are either P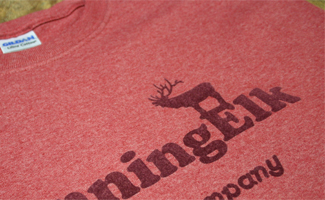 rint and Cut Roll Stock or Solid Colors.
What is Flock?
Flock is the really soft, furry feeling stuff you see commonly on Black Light Posters and can be applied to t-shirts and apparel.
Back Ground AOP Printed Apparel -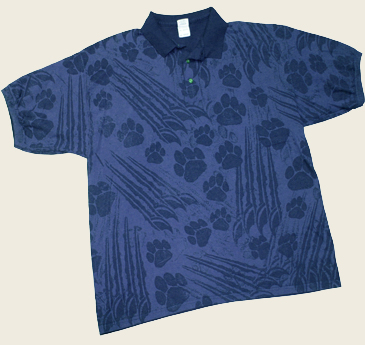 We Can Print Polo Shirts, Baby Dolls and Spaghetti Strap Shirts as well as T-Shirts from top to bottom, sleeve to sleeve. If you really want to be Unique and Stand out from the Crowd.
Unfortunately, we are unable at this time to produce Apparel with Long Sleeves or Hoodies.
Please Note: All Over Back Ground Graphic Printing is not for clients who are in a RUSH or Needing the Lowest Price on Minimum Orders. *Minimum Order for Background AOP orders is 144 pieces.
AOP Background Graphics and All Over Printing Prices can be found here..
True All Over Printing - For the Retailer who is serious about their Printed Products.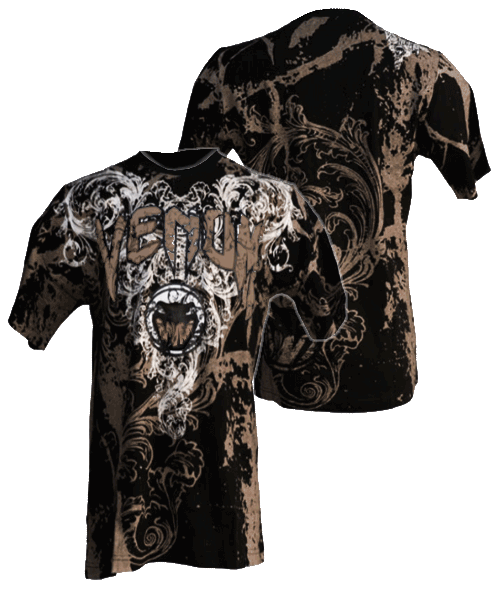 Custom Apparel & Shirts Printed from Top to Bottom & Sleeve to Sleeve.

Minimum Orders are Generally 12 Dozen per Color to keep prices at a Minimum.

All Over Printed Apparel Via Cut and Sew Process - As of June 30th 2009 - We Require a 500 Piece Minimum for Cut and Sew Manufacturing. Contact us for more information.